Short-term joint staff training "iPEER in practice" will take part in Amarante, Portugal during the period of 23 March 2023 and 1 April 2023.
VET teachers are welcome to participate in the training activities.
iPEER in practice – Short-term joint staff training is a 10-day-long training to test the main outputs from the iPEER methodology and curriculum development:
iPEER methodology for peer-assisted learning
iPEER Open Educational Resource focused on the three pilot VET sectors – automation, life sciences, and computer science.
iPEER inventory and repository.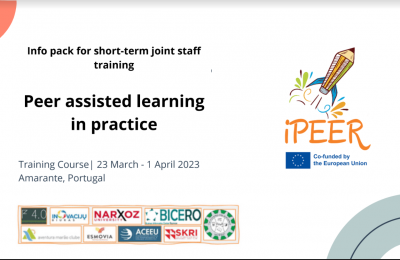 Participating countries: Bulgaria, Lithuania, Kazakhstan, Portugal, Germany, Slovenia, Spain.
If you are interested to participate please register and get confirmation from the organisers.
This training will provide the guiding principles, methods and approaches to be used by all partner countries, but also for transnational training sessions, having an impact on partners' staff and pilot participants, as they will be trained in the iPEER PAL methodology. Through the training, participants will improve their knowledge of peer-assisted learning, and how to conduct classes in-school or outside, by using the tools of the iPEER inventory.
All participants will go through various educational activities, gamified modules, and assessment and evaluation procedures. The participants will prototype a pilot approbation session, which would be conducted at month 16 of the project implementation.